Go Global Fair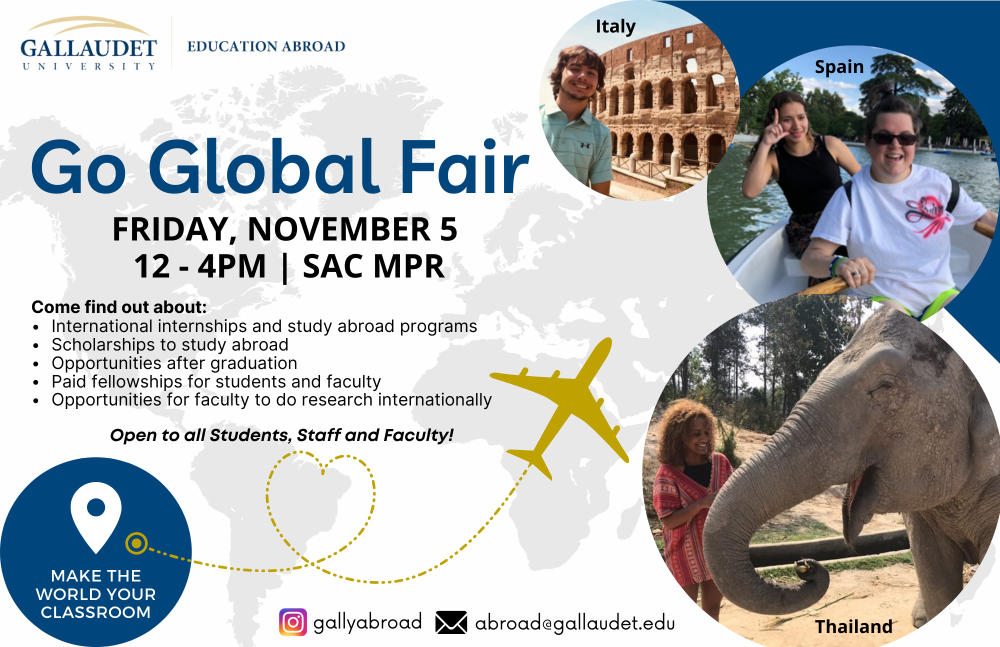 Go Global Fair 2021 Plans:
The Go Global Fair has become one of the hallmark events for the Office of International Affairs at Gallaudet. Typically in November. The Go Global Fair is an annual opportunity for international education organizations, as well as international exchange, to connect with the Gallaudet community as well as the greater Washington, D.C. Deaf community. Students, staff, and faculty are invited to attend to learn about scholarships, internships, jobs, and programs that will take them abroad and provide them with international experience. Last year, we were able to host a week of online events in lieu of the fair. This year, we are excited to return to an in-person event on campus. I am pleased to announce that Gallaudet University will hold the fourth annual Go Global Fair on Friday, November 5, 2021, from 12 PM - 4 PM!
For Exhibitors
: Since Gallaudet will be operating in-person in Fall 2021, we will be hosting the fair in a way that is compliant with Gallaudet's COVID policies. For example, we may have the tables more spread out and place a limit on the number of students that can stop by anytime. We are currently working out the details to ensure that this is a safe event for all. We will also monitor changes in the local environment and will switch to a virtual event if need be. For more information, email
abroad@gallaudet.edu.
For Students
: The Go Global Fair is a great opportunity to learn more about study abroad programs, internships, and jobs focused on international topics, and international scholarships and fellowships. This fair will be hosted in a way that is compliant with Gallaudet's COVID policies. For more information, email
abroad@gallaudet.edu
.
Go Global Week 2020 Report Back
Over the course of Go Global Week, we hosted four online events, a trivia game on Instagram, and posted a ton of internationally-focused content on our Instagram page
@GallyAbroad
, engaging hundreds of Gallaudet students.
Gallaudet's current and former students along with faculty shared their stories of international experiences. Visit our Instagram page to see these videos.
Deaf Access to Study Abroad:
​On Monday,
Thomas Horejes
shared his experience applying for study abroad only to be told interpreters couldn't be provided. He inspired Gallaudet students to fight for themselves and for other Deaf students to have equal access to study abroad.

Deaf Fulbright Experience: On Tuesday, Jarvis Grindstaff and Raychelle Harris shared their experiences as Fulbright grantees, inspiring Gallaudet students to apply for opportunities to investigate Deaf life abroad and understand the value of the international exchange.

Going Global: Finding Your Path: On Wednesday the first year IDMA cohort planned our highest attended event featuring a presentation by Angela Maria Nardolill of Off-The-Grid Missions, an organization that provides the Deaf and Hard-of-Hearing individuals access to life-saving resources, especially in high-risk and remote regions around the world. They followed Angela's presentation with a panel featuring several of their own cohort sharing their experiences and passions. Finally, they served up a trivia game, keeping all of our attendees engaged (plus there were prizes!).

International Interconnections: On Thursday, international students Molly Feanny (Canada), Huda Abuahmad (Saudi Arabia), Misa Suzuki (Japan), and Long Nguyen (Vietnam) shared their experiences growing up abroad and deciding to come to Gallaudet. They shared with the audience some of their experiences growing up Deaf in another country and how that compared to their experience at Gallaudet and in the United States.

On Friday, the Education Abroad team organized an online trivia game focused on international Deaf culture and history, awarding three Gallaudet students with travel-related prizes. To see the trivia questions, visit the highlights section on our Instagram
@GallyAbroad
.
It is a tough time to feel connected to one another and a tough time to feel like the lure of international travel is not just a far off dream. Thank you to our Gallaudet community who participated in Go Global Week with motivation to learn about the value of the intercultural exchange. Together we will continue to connect with the world around us and someday, hopefully soon, we will travel again.