Gallaudet Passport Caravan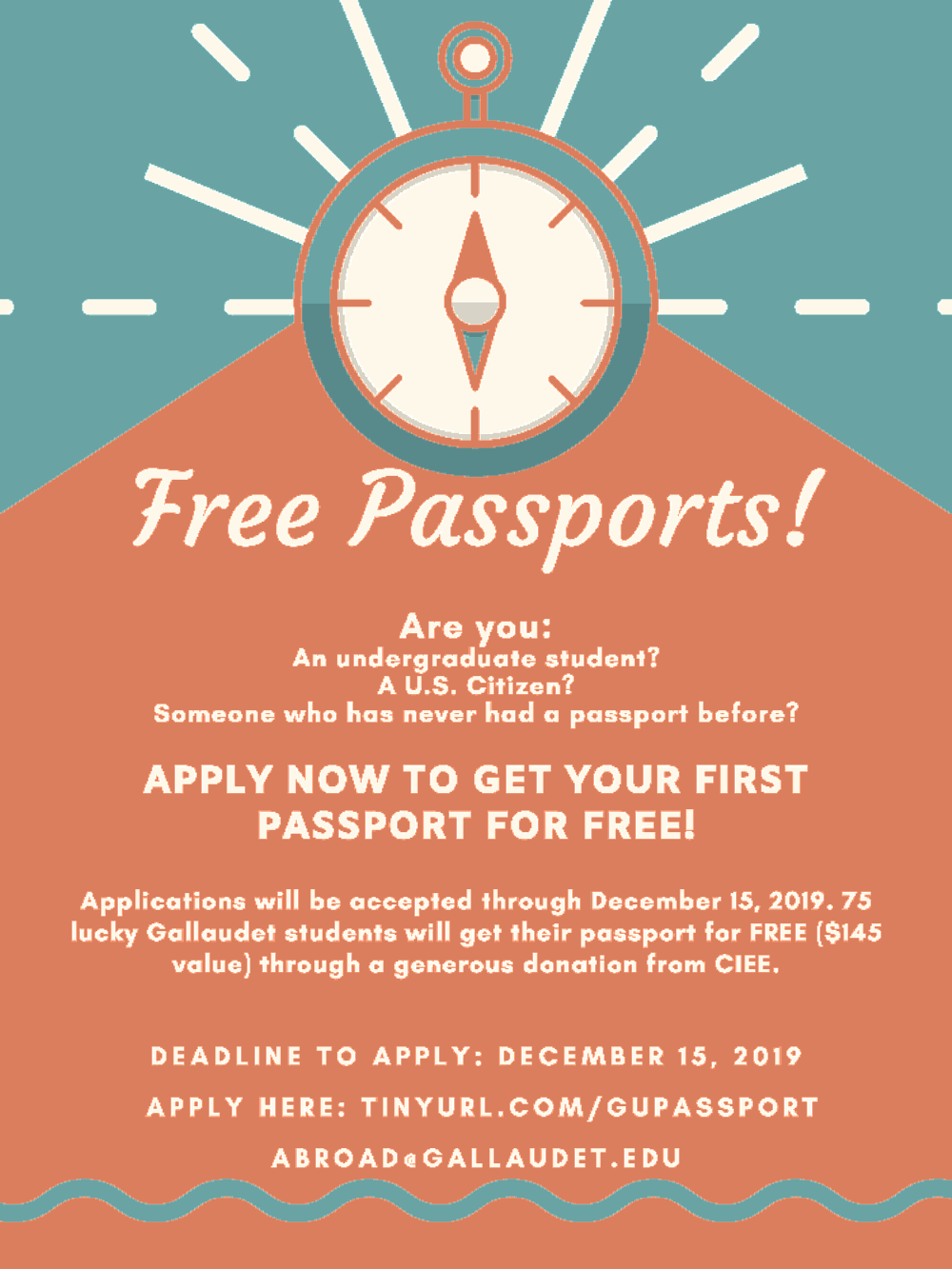 WE ARE STILL ACCEPTING APPLICATIONS. IF YOU CAN FINISH YOUR APPLICATION BY THURSDAY, JANUARY 31, YOU CAN GET A FREE PASSPORT.
Apply for your first passport and get the $145 fee covered! Passport agents will be on campus on Friday, February 7, 2020. You will need to apply for this opportunity in advance. 75 lucky Gallaudet students will get their passport for FREE through a generous donation from CIEE.

ONLY THE FIRST 75 COMPLETED APPLICATIONS WILL RECEIVE A FREE PASSPORT.

EMAIL ABROAD@GALLAUDET.EDU WITH QUESTIONS


What is the CIEE Passport Caravan? What is this event for?
Gallaudet has been selected to host a CIEE Passport Caravan. 75 Gallaudet students will have their U.S. passport applications paid for by CIEE and Gallaudet Education Abroad. This is a $145 value. Applications for a first-time passport can only be processed during an in-person appointment with an official passport agent. We will be bringing official passport agents to campus for a one-day event (February 7, 2020) for the application appointments.
What date will this event be held?
Friday, February 7, 2020. If you are interested, please mark this date on your calendars now and be ready to schedule an exact appointment time as soon as you receive further details from Gallaudet's office of Education Abroad.
Who is eligible to participate?
To be eligible to participate, you must be a current degree-seeking Gallaudet undergraduate student, a first-time passport applicant, and a U.S. citizen.
I am interested and eligible. How can I sign up?
Here is the link to apply
. Students must upload all necessary materials by
Friday, January 31, 2020
. Not everyone who applies will get a free passport. The first 75 students to finish their applications and upload all necessary materials will be chosen for this opportunity.
I already have a passport and it is expiring soon. Can I sign up for this program to receive a renewed passport?
No, the CIEE Passport Caravan official agents will only be processing first-time passport applications. Applications for renewals will not be processed at this event.
I had a passport when I was age 15 or younger and need to renew my passport now. I see the procedure and form I need to renew my passport is the same as for first-time passport applicants. Can I sign up for this program to receive a renewed passport?
No, the CIEE Passport Caravan event and funding is only for first-time passport applicants.
I just recently applied for a passport. Can the Passport Caravan program reimburse me?
No, the CIEE Passport Caravan program will only cover passport fees for students who submit their applications to official agents during our February 7th event.
I filled in my application on this website. Is there anything else I need to do now?
Please read the Required Materials for a Passport Application PDF document and use those instructions to begin preparing your application documents. You will need to upload these to your online application before
Friday, January 31, 2020
.
Will the CIEE Passport Caravan program pay for my passport photo?
No, students will need to get photos in advance of the February 7th event (and upload them to your application by Friday, January 31, 2020) and pay for them on their own. You can expect to pay around $7 - $15 for photos, depending on which business you go to and how many photos are included in your set.
What will happen during my application appointment on Friday, February 7?
The official passport agent will review all of your documents. The agent may ask you questions to confirm your identity. At your appointment (and only then – NOT before) you will sign your DS-11 application form and confirm for the agent that all information is accurate to your knowledge. You will submit your materials to the agent for processing. Most appointments will take 15 minutes or less.
Will I receive a passport book, a passport card, or both?
Only a passport book.
Where will this event be held?
Location details will be released to students once their appointments have been scheduled. Please watch for announcements.
When should I expect to receive my passport?
Routine processing time is 4-6 weeks and expedited processing time is 2-3 weeks. After submitting your application documents on February 7th, you will also be able to check the status of your passport application on the U.S. Department of State's website.
How will my passport book be mailed back to me?
Newly-issued passport books are delivered using Priority Mail with Delivery Confirmation. Your citizenship evidence will be mailed back separately from your new passport.
Who can I contact for more information?
abroad@gallaudet.edu