Annual Go Global Fair
The Go Global Fair is an annual opportunity for international education organizations, as well as international exchange, to connect with the Gallaudet community as well as the greater Washington, D.C. Deaf community. Students, staff, and faculty are invited to attend to learn about scholarships, internships, jobs, and programs that will take them abroad and provide them with international experience.
Fast Facts
Learn about study abroad programs
Learn about scholarships and fellowships that will pay for you to live in other countries
Find jobs and internships with international development organizations
Learn international sign languages from Gallaudet's international students

Some of the organizations you can meet:
and so many more!

Fair Schedule
12PM-4PM (MPR):
Stop by! Organizations will be exhibiting in MPR. Come learn about internships, career opportunities, scholarships, and study abroad programs that will help you travel and explore the world!
12PM-1PM (JSAC 1011):
Student panel focusing on accessibility and audism at home and abroad. Organized by the International Development MA Program. Pizza lunch provided!
1PM-2PM (MARKETPLACE):
Gallaudet's international students will be teaching signs from their native sign languages in the marketplace area! Come learn another sign language!
To request accommodations for the fair, email abroad@gallaudet.edu

Organizations and companies who are interested in exhibiting at the fair, email abroad@gallaudet.edu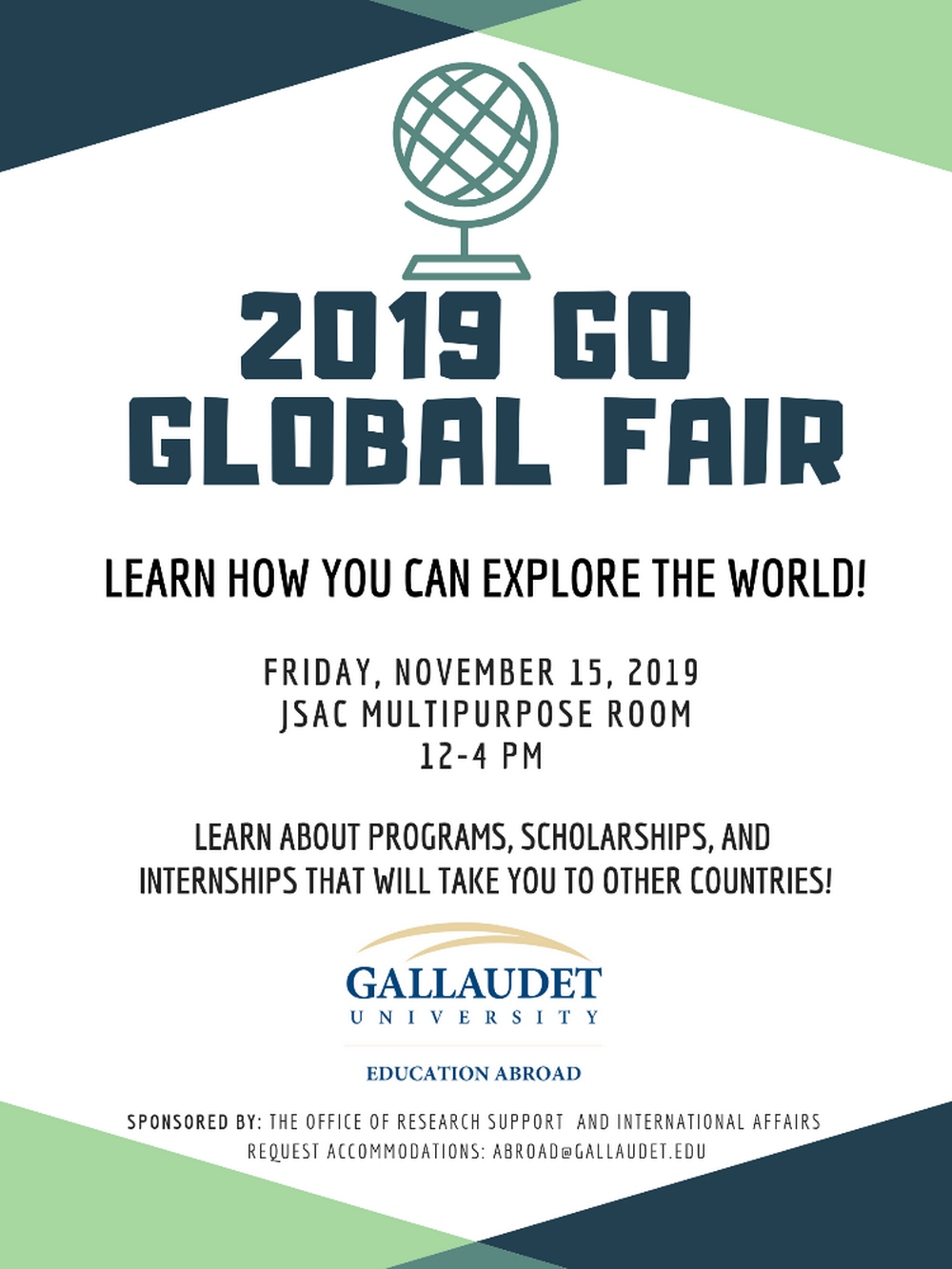 Check out this video from last year's Go Global Fair in fall 2018!
Note: the video includes music, but no voiceover, therefore there are no captions.