International Health Insurance
iNext Insurance
All students are required to have iNext travel insurance while studying or interning abroad. iNext has a few different coverage options, so please consult with the Education Abroad office about which plan is best for you. As a general rule, if you already have a primary insurance you will sign up for a
supplemental plan
. However, if your insurance does not cover you while abroad (e.g. Medicaid) you need to sign up for a
comprehensive plan
. It is important to understand that, as with any travel insurance policy, this coverage is secondary to your primary medical coverage and certain exclusions may apply. If you have any questions about the iNext travel insurance coverage or how to purchase a card online, please visit us in the Education Abroad office.
iNext offers three levels of supplemental plans, three levels of comprehensive plans, and two levels of political and
evacuation
coverage. These options allow you to specifically address
your
needs based on
your
unique trip. Additionally, you are able to pay for coverage on a daily basis. For example, if a faculty-led study abroad trip is 14 days, you will only be required to purchase 14 days of insurance. For reference,
comprehensive
coverage for a 14-day trip costs $21.00. If you are doing a summer internship (which could last up to three months), you will purchase a 6-month policy. For reference, a basic 1-year
supplemental
policy costs $33.00. There are many different policies available. The Education Abroad office will work with you to determine the best policy for
your
needs.
An additional feature of iNext insurance is that they offer country reports. These reports offer information on terror, crime, conflict, corruption, disease, water quality, and more for every country in the world. If you are interested in seeing a report for your destination country, please talk to the Manager of Education Abroad and International Fellowships.
*Note: Please discuss iNext insurance with the Manager of Education Abroad and International Fellowships BEFORE you purchase a plan. This way you are guaranteed the correct plan at the correct price. Set up a meeting and come prepared with your pre-existing insurance information.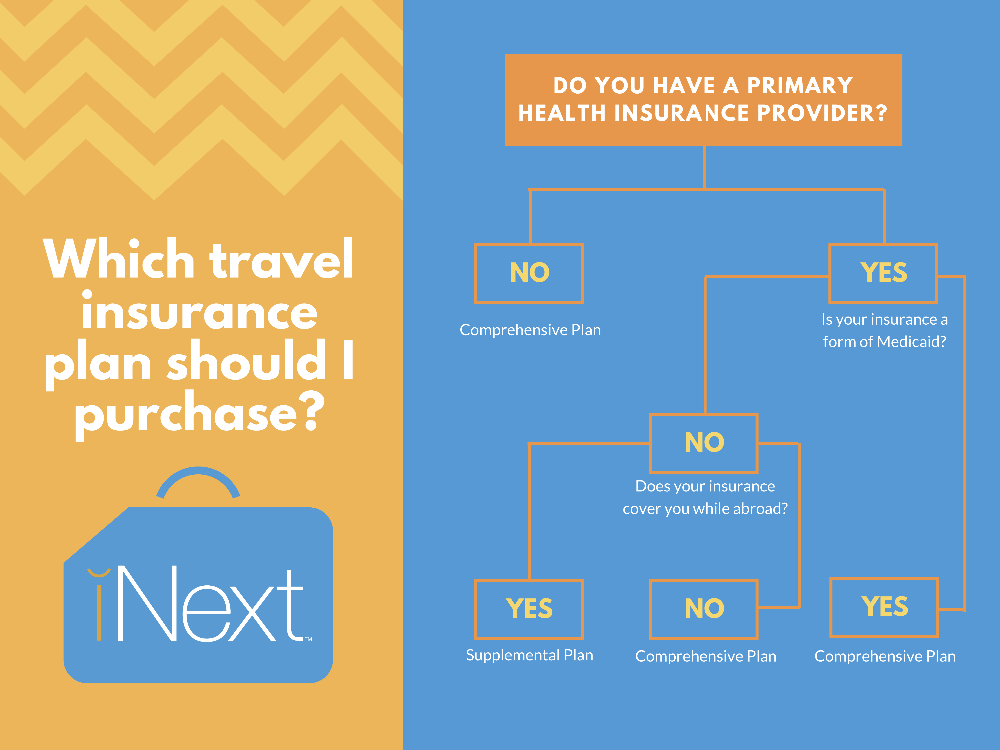 Preparing to Go / While Abroad:
Before leaving for study abroad, students should familiarize themselves with the procedures of their insurance company, to ensure speedy reimbursement in case of illness. If possible, request necessary forms to take abroad. Students should be sure to keep the complete policy number—as well as the name, address, telephone, fax, and e- mail—of their insurance company with their important personal papers when abroad.
iNext has 24/7 Global Assistance. Contact them at +1-240-330-1548 (collect/outside U.S.) or 1-86-506-5304 (toll free inside the U.S.) Students will need to identify themselves at the outset of the call as an iNext insured. The Generali team is available 24/7 and may be able to arrange direct payment with the hospital or coordinate payment guarantees to facilitate cashless access for serious and expensive medical cases. Students must understand that direct payment is not always guaranteed as each claim is handled on a case-by-case basis.
If direct payment from iNext is not available, keep in mind that foreign physicians and hospitals outside the U.S. nearly always require payment at the time of treatment, and typically will not be able to bill your insurance company. All students should set aside adequate funds for medical treatments and emergencies to take with them overseas, and expect to submit receipts to their insurance for reimbursement of medical expenses upon return to the U.S.